OUT AND ABOUT
Look up! Did you catch the Fargo-Moorhead Symphony performing a little North of Normal and serenading people from the rooftops of Downtown Fargo?
Our musicians love to perform at various events throughout the community. Here are three performances of FMSO players at the downtown Red River Market in the summer of 2016.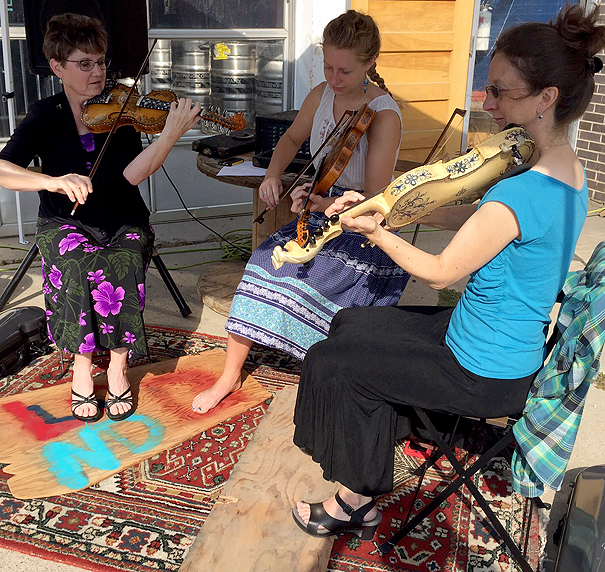 INQUIRE ABOUT HIRING AN ENSEMBLE
Several ensembles of FMSO musicians are available for your event - from weddings and corporate events to in-home private concerts. String quartets, jazz combos, brass quintets, solo pianists and more - contact executive director Linda Boyd for more information.
DEEPLY ENGAGED IN THE COMMUNITY
When the Fargo-Moorhead Symphony Orchestra was named the 2011 ChamberChoice Small Not-for-Profit of the Year, it was a powerful affirmation by the business community of the vital role that our wonderful professional orchestra plays in our region. Working together – whether in the fields of business or the arts – we make our community stronger and more vibrant. The FMSO enhances music education throughout the region with its performances:
Providing daytime concerts for every fourth-grade student in the region during the school day, where they hear exciting orchestral repertoire and learn about all the instruments of the orchestra

Presenting world-class soloists from our Masterworks Concert Series in school visits and master classes

Bringing superstar violinist MIDORI to our schools and concert stage through her Orchestra Residencies program

Working with students one-on-one to help them realize their talents
But the Fargo-Moorhead Symphony Orchestra is not just about concerts, it's also about truly serving our community in new and sometimes unexpected ways such as:
Bringing thousands of people together in a special concert at the Fargodome to celebrate the epic 2009 flood-fighting victory, complete with audience singalongs and victory speeches by our Congressional delegation
Spearheading a community-wide New Americans Oral History project in conjunction with a concert featuring a massive new orchestral work by Peter Boyer, Ellis Island: The Dream of America
Collaboration with Prairie Public Television - FMSO musicians described and demonstrated their instruments for a series of short videos that were made available to area elementary schools.
You can find FMSO musicians demonstrating their instruments here